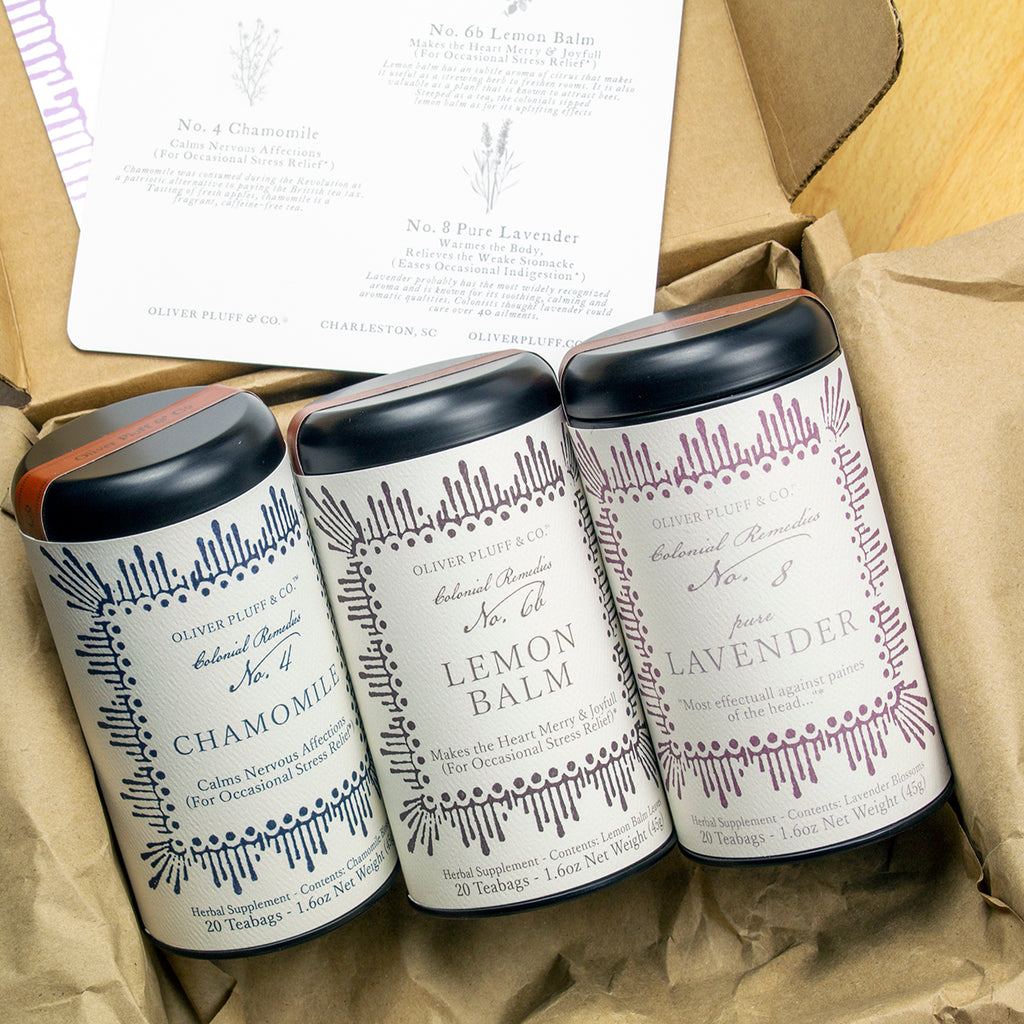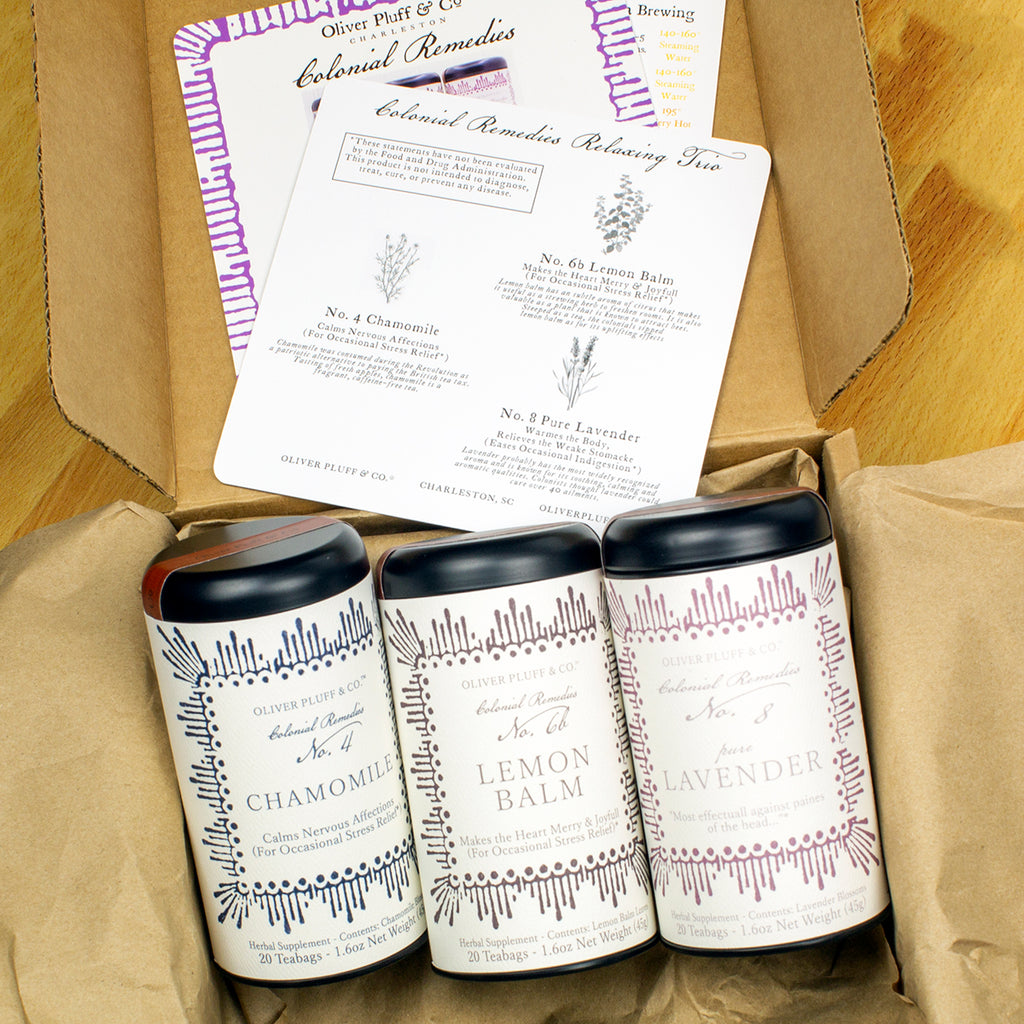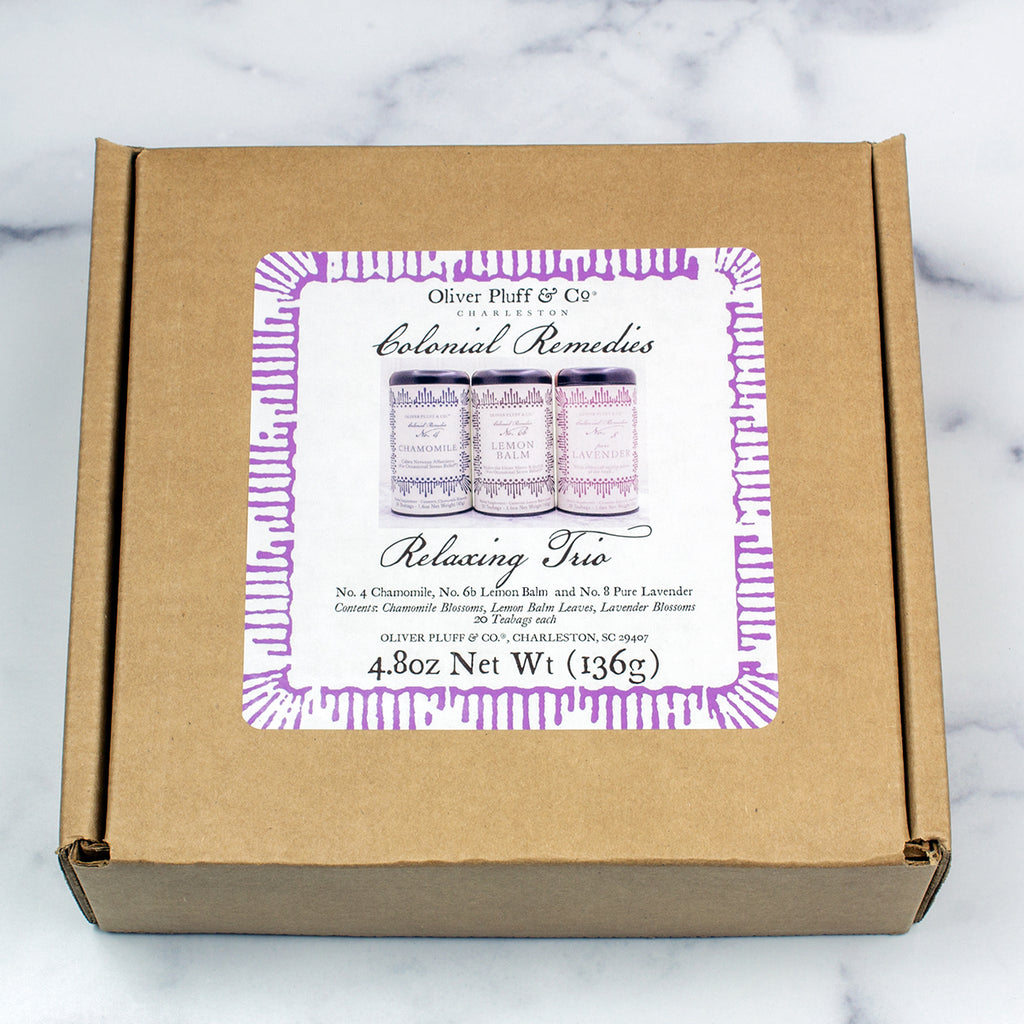 Colonial Remedies -- Relaxing Trio Gift Set
Colonial Remedies -- Relaxing Trio Gift Set
Colonial Remedies -- Relaxing Trio Gift Set
Our bestselling Colonial Remedies are now available in convenient gift sets! Each Trio includes three healing tea blends, a perfect gift for any tea lover or wellness aficionado. Our Colonial Remedies come from herbal recipes commonly used during the 18th century. Many of these infusions have helped shape Western medicine, and the recipes are still used today to treat ailments and discomforts. 
The gentle, aromatic teas in our Relaxing Trio are traditionally consumed before bed to ease the body and mind into sleep. 
Description:
Colonial Remedy No. 4 is chamomile, a calming herb. These flower blossoms create a bright yellow tea that has a soft and warm taste of apples that can calm the mind and body from occasional tension and stress. This caffeine-free tea is commonly sipped before bed to place the mind and body into a soothing state of relaxation.  Packaged in a single chamber sachet style teabag.
Lemon Balm is Colonial Remedy No. 6b, a soft citrus aroma that uplifts the spirit for a more youthful feeling. This brightly flavored tea may add a blissful delight to the day as a pick-me-up during lunch or after a long week. This uplifting herb could be enjoyed as a warm tea or as a cold drink. Packaged in a pyramid style teabag made of biodegradable nonwoven material.
Our latest Colonial Remedy is No. 8, pure Lavender.  Lavender probably has the most widely recognized aroma and is know for its soothing, calming and aromatic qualities.  Colonist thought that lavender could cure over 40 different ailments.  Lavender is a flowering plant in the mint family that is native to the Mediterranean coast.  It is also cultivated for its essential oils and fragrant blossoms, as well as its floral notes.  Unlike our Lavender Tea that contains black tea, this product is pure lavender blossoms and is naturally, decaffeinated. Packaged in a pyramid style teabag made of biodegradable nonwoven material.
These statements have not been evaluated by the Food and Drug Administration. These products are not intended to diagnose, treat, cure, or prevent any disease. Please contact your doctor before making any dietary changes. Pregnant and nursing mothers, please contact your doctor before using any of our products. If you do have any reactions to any of the products provided by Oliver Pluff & Co, please stop using the product and contact a doctor immediately, your health is important to us. 
Ingredients: Chamomile Blossoms, Lemon Balm Leaves, Pure Lavender Blossoms. 
Size/Weight: (3) 20 Pyramid style teabags sealed in matte black signature tea tins.
Shelf Life: 3 Years
Hand Packaged by Oliver Pluff & Co. in Charleston, South Carolina